Yeastless Dough & Fillings
D2 Yeastless Dough, Innovation for Baking
D2 Ingredients yeastless dough involves a combination of innovative baking powders that takes over the complete yeast function in dough, without any negative effects relative to the flavor and cell structure of yeast.  It is easy to use and requires no proofing time prior to putting into production.
Concept
Due to its unique formulation, D2 Yeastless Dough can be used to make bread products or snacks without the need for standard bread dough proofing time. The dough can also be used in tandem with filling products, and can be co-extruded with numerous types of equipment within the food manufacturing industry.
Applications
Our yeastless dough can be used in a variety of snack products including bread sticks, pizzas, bagels and filled snacks.  Filling products can range from various types of meat fillings to cheese fillings, as well as many other savory flavor profiles.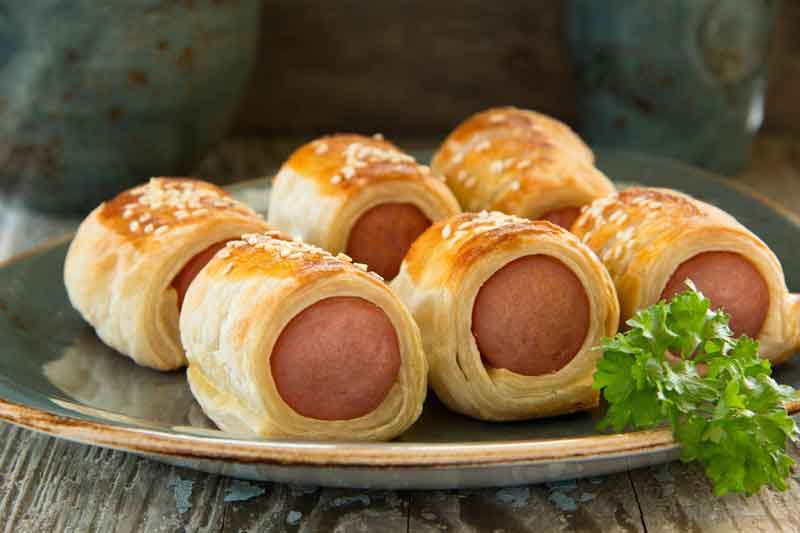 Co-Extrusion: Yeastless Dough with Fillings
Co-extrusion is the manufacturing of a product using extrusion technology, however with two products being extruded together as a single product. It is commonly used in the food manufacturing industry for the manufacturing of filled breakfast products, appetizers and snacks. For the meat processing industry, co-extrusion is often used to coat a meat product with a vegetable based (alginate) casing. This same technology can be used to coat a meat product with a bread casing.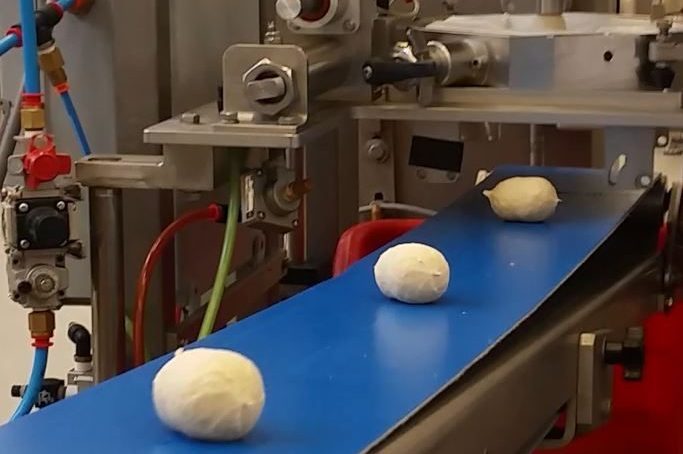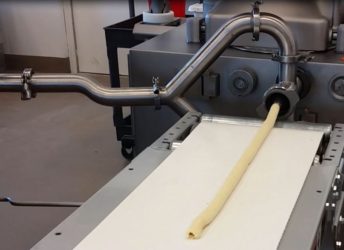 Bread Dough
Standard bread dough does not perform well in co-extrusion environments because of damage to the dough structure. D2 Ingredients Yeastless Dough has a unique formulation that allows the product to maintain its structure after co-extrusion.
Easy to Use
D2 Ingredients Yeastless Dough product is extremely simple to use.  It is typically offered as a powder mix, only requiring the addition of water. It also offers flexibility for mixing, as it can be mixed in traditional mixers as well as the bowl choppers that are commonly used in the meat industry.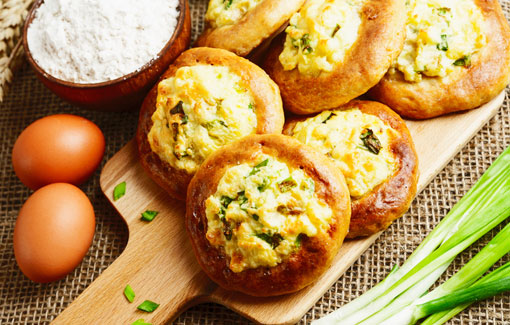 D2 ingredients has a variety of fillings with cheese flavor profiles and other savory flavors. The most impressive features of our fillings are appearance and functionality. Even after freezing and/or baking, our fillings will maintain their volume and remain stable within your product. Our base filling product can also be transformed into flavor profiles to your specific requirements by simply adding spice blends, as well as up to 35% of your own "add-in" products such as shredded cheese, vegetables, or meat products.
Filling Product Features
Bake and heat stable
Freeze and thaw stable
Easy to use and offers flexibility
Suitable for meat, bakery and convenience food industries.